IFBB Bikini Pro Jessica Jessie Interviews with Directlyfitness.com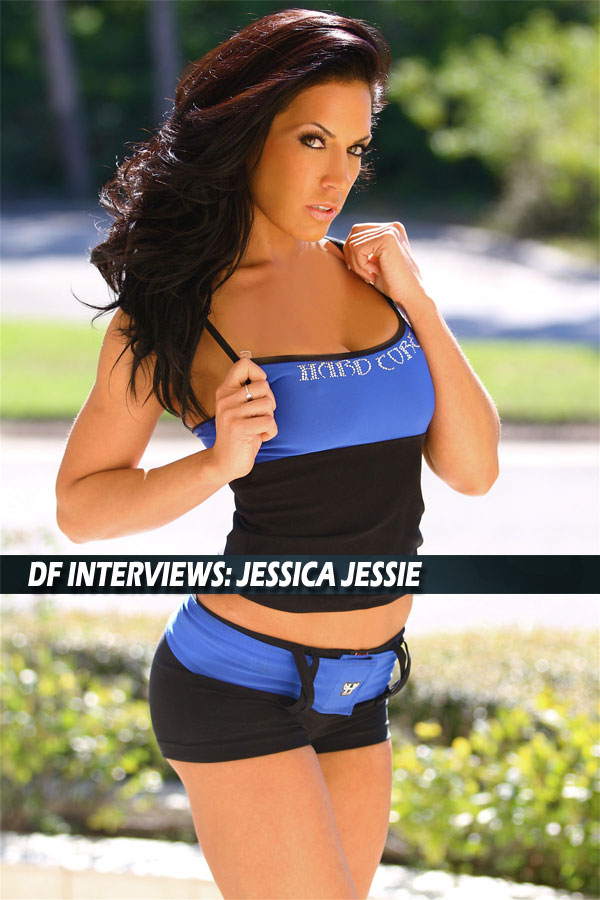 1. Tell us a little about how you got to your current success level.
I have been an athlete my whole life. In high school I played three sports and was the captain of my cheerleading team. At Virginia Commonwealth University I played collegiate soccer. Thereafter I became a member of the Washington Redskins cheereleaders but I developed some bad nutrition habits during this time.
That's when I turned to a fit and healthy lifestyle. I studied everything I could on exercise and nutrition and became certified as a nutritionist and master personal trainer. In 2010 I decided to compete in fitness and I won my first four NPC (National Physique Committee) shows. In just three months I earned my IFBB (International Federation of Bodybuilding and Fitness) pro card at Junior Nationals in Chicago.
Since then I have competed as a pro and been fortunate to have competed in two Miss Olympias. In 2011 I finished in second at the St. Louis Pro and the Dallas Europa Supershow and this year I was invited to compete in the prestigious Arnold Classic.
2. What do you think is the number one thing keeping you motivated?
I have always loved to compete ever since I was on the soccer field at five years of age. The number one thing that keeps me motivated is hard to define. I think it's just part of me.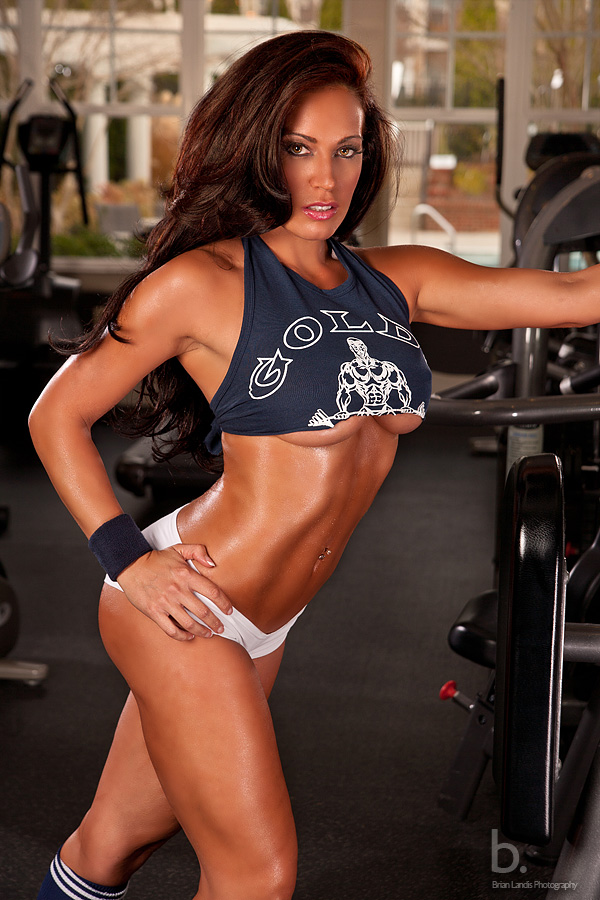 3. What is your training routine like?
I do some form of cardio every day. I may use the Cyber Arc or the treadmill. While on the treadmill I will often do lunges, Jane Fonda's and other exercises while the treadmill is rolling to work on my legs. As for a weekly routine, i will hit each body part at least once a week.
Because I compete in the bikini division I do focus a lot on my legs and glutes. Without giving specific exercises, a typical week might be quads/glutes on Monday, chest/shoulders/triceps on Tuesday, hamstrings on Wednesday, back and biceps on Thursday and glutes and shoulders on Friday. I'll also do ab work at least every other day.
4. What kind of cardio do you feel works best for you?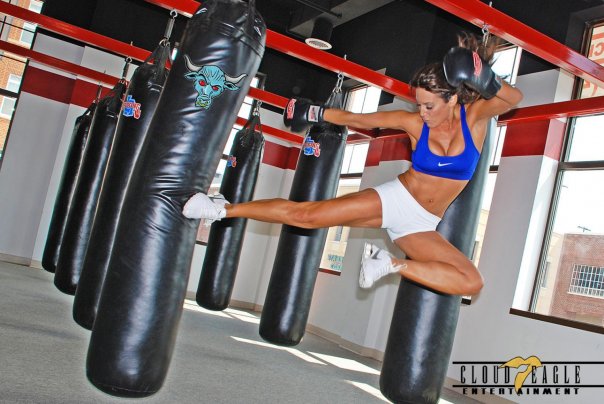 I love to do HIIT. High intensity interval training. As for just cardio though I love to mix it up between a Cyber Arc machine and the stepper. I usually go for 45 minutes to an hour and I will do this at least five days per week.
5. What do you think of free weight vs. machine training?
If I am trying to build muscle machine weights work best but either way can work as long as you work hard and efficiently!
6. How does your on and off season training and diet differ?
If I'm prepping for a show I may have one cheat meal a week. And if I'm prepping for a show you probably won't catch me at McDonald's munching on fries. During the offseason I like to live a little. I have a sweet tooth and I live for pizza on Sunday nights!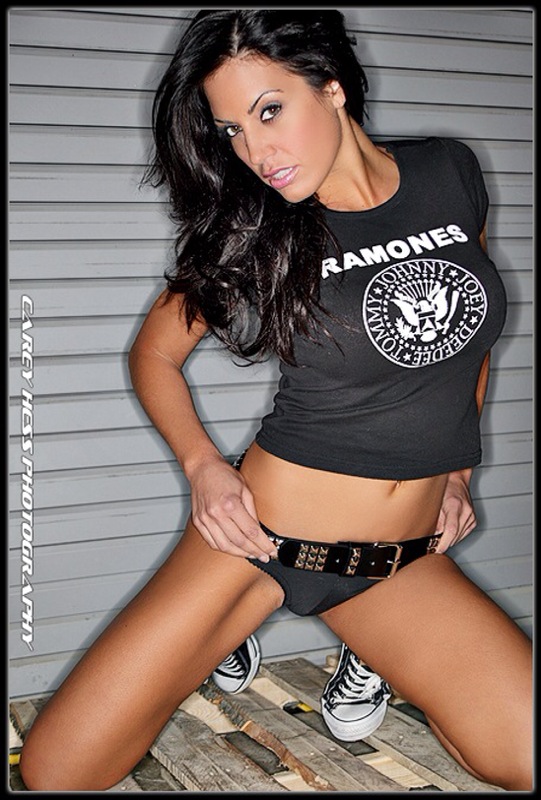 7. What top 3 tips you can give to our readers regarding nutrition?
Wow, first of all you have to commit to live a healthy and fit lifestyle. Once you commit and have goals it becaomes so much easier to stick to a nutritious diet.
Second, planning helps. I plan out my meals for a week which may include one cheat meal to look forward to at the end of a successful week.
Third, try adding asparagus to your diet. It's a wonder vegetable!
8. What's your diet like?
You really want me to give away all my secrets! Let's just say that I have 5-6 smaller meals each day. I start off with oatmeal, fruit and egg whites. Then throughout the day I will have fish, chicken, turkey breasts, tortillas, sweet potatoes, asparagus, spinach, green beans and broccolli. I try and mix it up and make healthy choices consistently.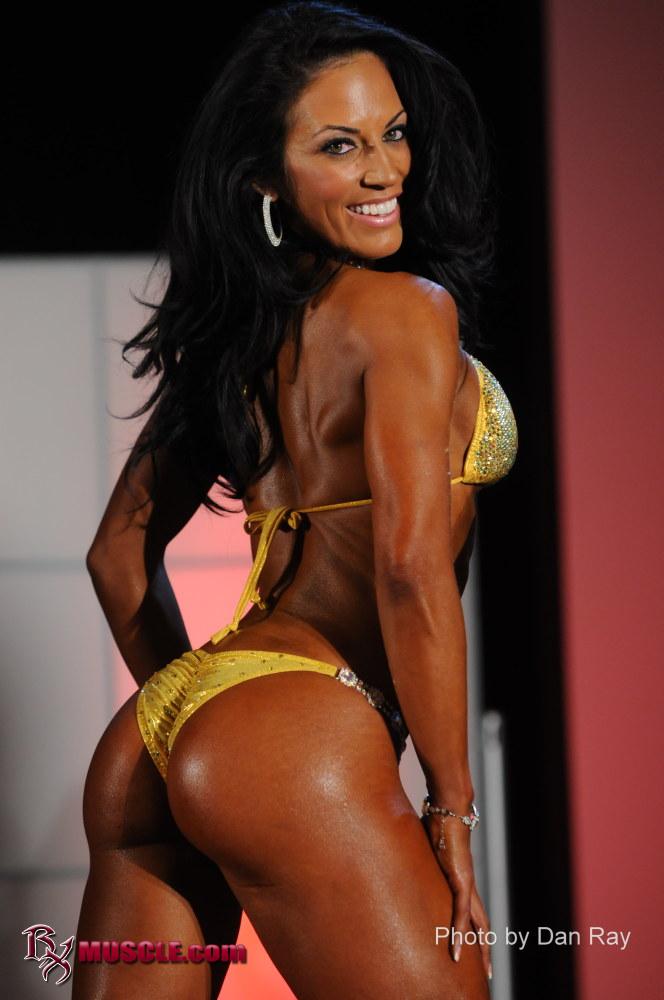 9. Do you believe in cheat meals? Why or why not?
I do believe in cheat meals because it is motivation for me. Also, food is one of the greatest pleasures in life so how can we just deny ourselves from the finer things like chocolate! Haha!
10. Which physical feature you are most proud of?
Shouldn't you tell me the physical feature you like the best?!? As for what I'm most proud of when it comes to transforming my physique I guess I would say my glutes.
11. What supplements do you use if any? If not, why not?
I use SAN Isolate Supreme in various flavors but I have to say my favorite is chocolate sundae. I also use SAN's fatburner Tight!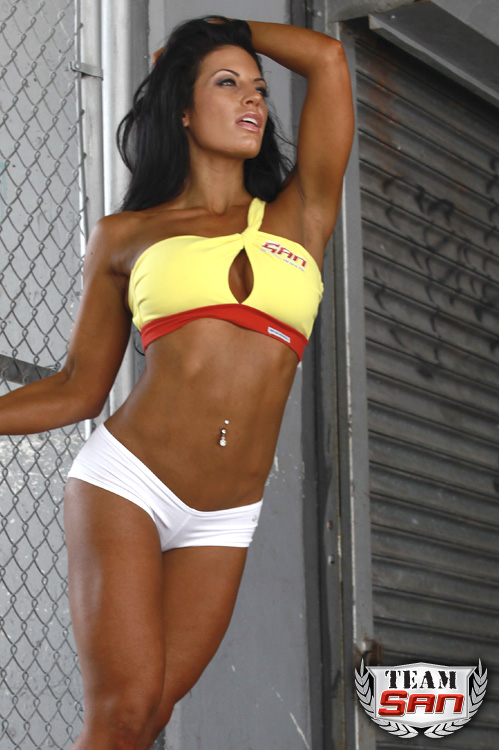 12. Favorite Bodybuilders, models, or athletes?
This is easy! Cindy Crawford has always been my role model. In fact, when I was in 10th grade my Mom let me take the day off from school to meet her at a book signing. She is so sweet!
13. Do you listen to music while you workout?
If so what kind gets you pumped up? I do listen to music while I exercise. Different types of music pump me up depending on my mood. Sometimes I'll listen to fun music like Black Eyed Peas. Other times I'll listen to hard rock songs like "Last Resort" by Papa Roach!
14. Who inspires you most?
My clients inspire me the most right now. I am currently training clients at Champion Boxing Fitness in Rockville, Maryland and watching my clients transform their physique truly inspires me to keep working on mine!
15. Do you have a favorite quote?
If it was easy, everybody would be doing it.
16. What do you believe to be your greatest weakness?
Well, it took me a couple weeks to finally answer these questions so the answer is obvious … procrastination!
17. What last 3 tips would you give to our readers to reach their fitness goals?
My first tip is to have a goal. If you have a goal that you can shoot for and if you really want it you will accomplish it. Second, trust the process. Results won't happen overnight but if you stick to exercise and nutrition you will transform your physique. Finally, have fun while you're working out.
If you can have fun while trying to get fit it is so much easier. Find things you like. Personally I love boxing so I try to make sure I'm doing some boxing classes even when I'm getting ready for a competition like the Miss Olympia or Arnold Classic. If you like tennis, hit the court. If you like to play soccer, go out and score some goals. Believe me, fitness is much easier if you are having fun and you can reach your goals without strictly going to the gym to lift weights and run on the treadmill.
Jessica Jessie Gallery:
[Gallery not found]
Thanks for letting me answer your questions. If you want to find out more about me, check out my websites below. I write fitness and nutrition blogs as well as offer training programs.
Bodyspace:Jessica Jessie
Website: JessicaJessie.com
Facebook:Jessica Jessie
Twitter: Jessica Jessie
Directlyfitness Team
Directlyfitness.com is dedicated to bringing you the most informative and up to date information to help you reach your fitness, health, and physique goals. Also visit our
store
for great deals on popular supplements!
Latest posts by Directlyfitness Team (see all)